"And as you wish that others would do to you, do so to them."
Luke 6:31
How have you been a good friend today?
"Love is more important than anything else. It's what ties everything completely together."
Colossians 3:14
How did God show his love for the world?
How do you show your love for others?
What can you do today to show love to other people?
'God said to human beings, "Fill the earth with people and look after it. Care for all that I have made."'
Genesis 1:27
What is our responsibility to care for God's world?
How can I behave responsibly today?
Who relies on me to act responsibly?
"I am the Lord your God. I am holding your hand, so don't be afraid."
Isaiah 41:13
How was Jesus courageous?
What helps people to be courageous?
How have you shown courage today?
"It is better to be honest and poor than dishonest and rich."
Proverbs 16:8
Why is it important to be honest?
"Try to earn the respect of others."
Romans 12:17, paraphrase
Who do you respect and why?
What sort of behaviour earns respect?
What do you do to show you respect someone?
What makes our Church of England School special?
As Church of England Schools, we place Christian beliefs and values at the heart of all we do. These are expressed in our distinctive vision and mission statement and inform decisions made at every level of leadership, from pupils to Governors. Every person associated with our community is important, not only as a member of our school but as a unique and precious individual within God's creation. Alongside the emotional, social, moral and intellectual needs of all, we nurture the spiritual aspects of human life such that all children and adults can flourish and experience the fullness of life (John 10:10).
As Church of England Schools, we are fully inclusive and celebrate diversity. We warmly welcome children and adults from all backgrounds and do not assume religious faith. We encourage challenge, through questioning, to help our pupils to develop their sense of self: as individuals, as members of our school and as members of our broader community.
We are part of the 25% of England primary schools with a Church foundation and are supported by St Martin's Parish Church, within the Diocese of Guildford.
What will you find in St Martin's Church of England Schools?
A School driven by a deeply embedded and rooted Christian Vision
Alongside caring, respectful, resilient individuals who help one another to enjoy life in all its fullness, you can expect: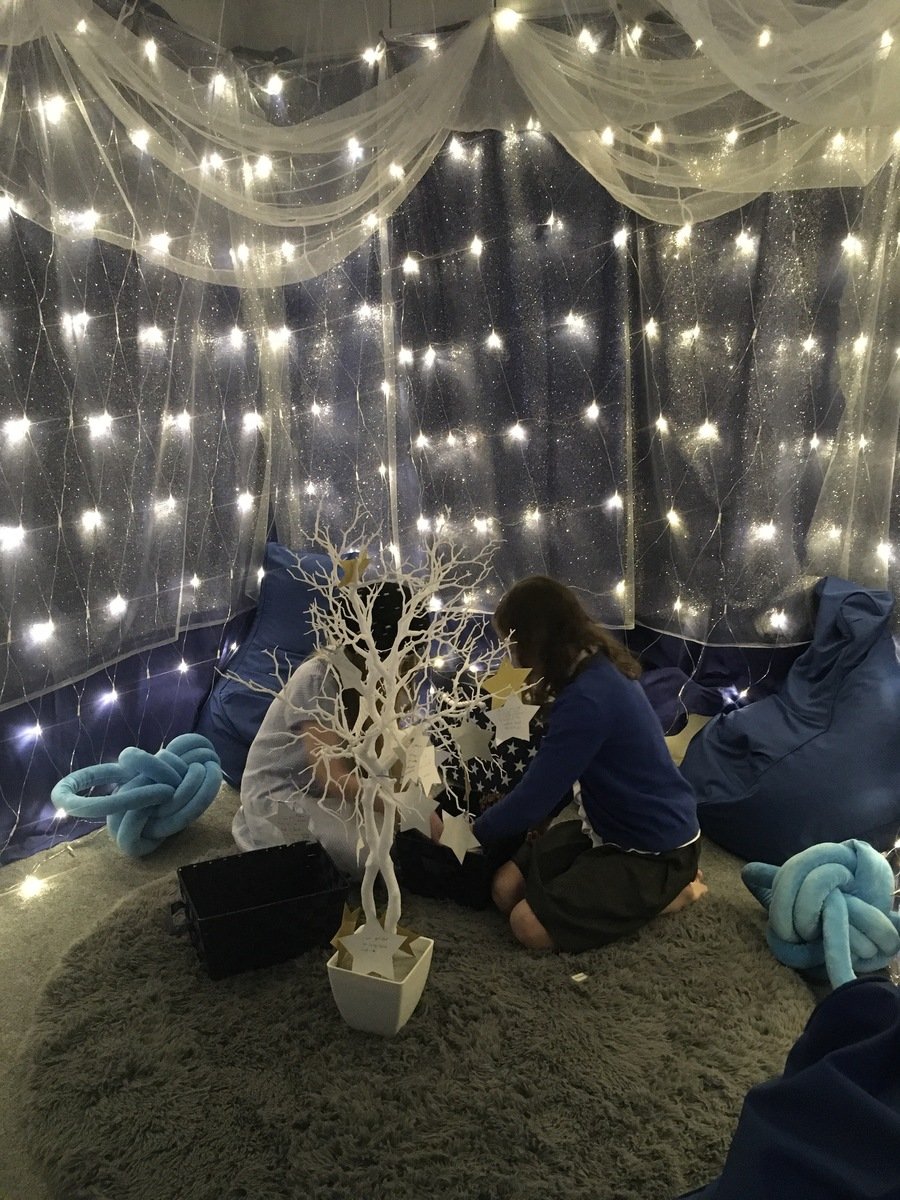 Church Partnership
Communion Service
Visits to Church
Visits from 'Spinnaker'
Eco links
Prayer tree and Prayer Space
Training from the Diocese
Christian Symbols
On our uniform, bags and diaries
In our reception area
In our two halls
In our classrooms
On our displays

Christian Songs and Celebrations
Weekly song practice
Harvest
St Martin's Day
Christmas
Easter
Pentecost
Invitational Prayer and Reflection
During daily Collective Worship
Before lunch
At the end of the day
In our permanent Prayer Space
All facilitated by committed class Prayer Leaders
Click here to read our Collective Worship Policy
High Quality R.E.
Special R.E. books
Relevant Bible Passages
Christianity studied for 50% of RE time
Objects of faith
Deep curiosity
Respectful enquiry
Rigorous analysis
Personal reflection
Click here to read our RE Policy