"And as you wish that others would do to you, do so to them."
Luke 6:31
How have you been a good friend today?
"Love is more important than anything else. It's what ties everything completely together."
Colossians 3:14
How did God show his love for the world?
How do you show your love for others?
What can you do today to show love to other people?
'God said to human beings, "Fill the earth with people and look after it. Care for all that I have made."'
Genesis 1:27
What is our responsibility to care for God's world?
How can I behave responsibly today?
Who relies on me to act responsibly?
"I am the Lord your God. I am holding your hand, so don't be afraid."
Isaiah 41:13
How was Jesus courageous?
What helps people to be courageous?
How have you shown courage today?
"It is better to be honest and poor than dishonest and rich."
Proverbs 16:8
Why is it important to be honest?
"Try to earn the respect of others."
Romans 12:17, paraphrase
Who do you respect and why?
What sort of behaviour earns respect?
What do you do to show you respect someone?
School Development Objectives and 5 Year Strategic Goals
We use rigorous self evaluation across our two schools in order to celebrate our achievements and to identify areas in which we can develop further. This process continues day in day out and this information is used to produce a succinct and focused plan of School Development. Below is a link to our headline objectives for the current academic year. Each of our headlines have individual action points, these are continually monitored and worked on in school.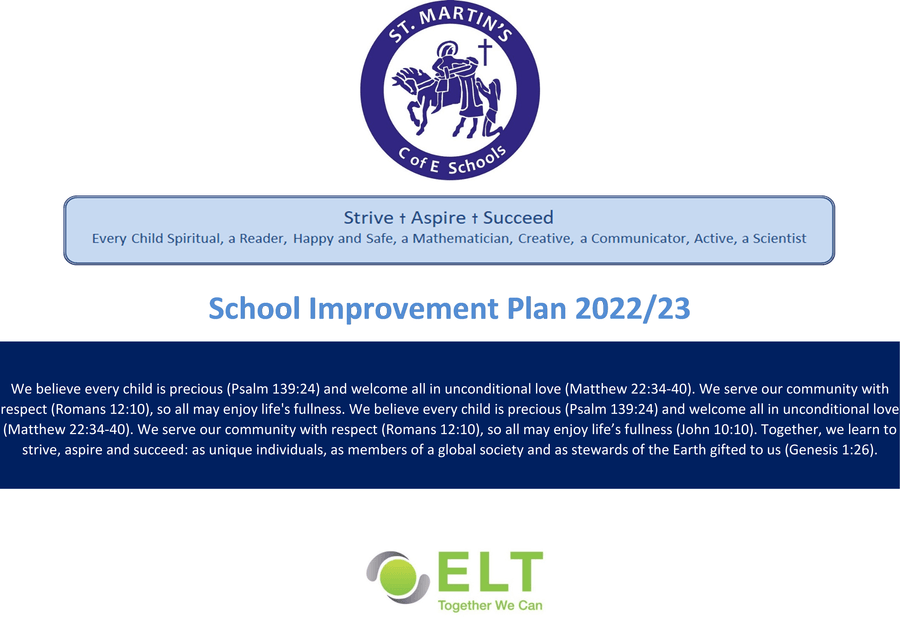 5 Year Strategic Goals
Our 5 Year strategic goals for 2020 to 2025 are focussed around five core themes: Staffing, An Environmentally Friendly School, Income Generation and Cost Reduction, Our School Building and School Led Collaboration (the full original draft document can be found here).
Our plan is constantly being reviewed and updated. Look out for our new plan in the coming months...
Progress
Staffing
We have a track record of great recruitment and retention.

Our staffing structure continues to evolve to meet the needs of our children and skills of our staff. Examples include the implementation of Meerkat provision, a full time music teacher, part time teachers who share class responsibility having a full cross over day each week. a dedicated part time sports teacher and full time Forest School teacher.

CPD of staff prioritised. Examples include implementation of Rosenshine's Principals of learning, mental health awareness and remote learning provision, support for national professional qualifications.

We work in partnership with teacher training providers playing an active and successful part in effective teacher training.

Our spend on staffing remains high as a proportion of our budget. This conscious and regularly evaluated decision is rooted in our belief that children flourish best when providing with high quality teaching from our staff team.
An Environmentally Friendly School
We produced 27 tonnes less CO2 over the last two years than in the 2019/20 academic year.

95% of our lighting is now provided by energy efficient LED lighting.

1960's boilers in the music room and library have been replaced with a modern gas boiler.

Provision has been made on site for increased bike and scooter storage with approximately 100 bikes and scooters used on a daily basis.

All paper is sourced from 100% sustainable sources with 80% of the energy used to produce it sourced from renewable energy.

Increased recycling on site for crisp packets, bread bags, contact lenses, batteries, pens and food.

Milk cartons removed and replaced with milk bottles (removing 120 cartoons and plastic straws from our waste each day).

Hedge row and trees planted on site in conjunction with Surrey County Council.

30 trees planted in January 2022.
Income Generation and Cost Reduction
Self Insurance of staff absence saving approximately £15000 per year.

High pupil numbers maintained.

Letting income increased and is now 2.2% of our revenue (approximately £70000 per year).

Full competitive tender process for catering. New caterers with improved quality of lunches allowing parents to choose meals in advance reducing waste whilst providing income to reinvest in service.
Our School Building
Our before and after school care has been expanded to meet the needs of more families and now caters for all who have requested it.

Our Year 1/2 boys toilets have been fully refurbished (completing a programme of toilet refurbishment across the schools that started in 2017).

Our link corridor has been created finally linking Year 1 and 2 with Reception (an aspiration for 8 years).

Our Accessibility Plan and Building Survey are used to drive school condition improvement with progress evaluated by Governors on an annual basis.

Forest School, a well resourced library and music room and well planned spaces enhance learning provision and outcomes.
School Led Collaboration
Academy status investigated and full consultation undertaken to join Enlighten Learning Trust.

Academy conversion completed in April 2022 meaning we now are working in 'hard wired' partnership as a group of 4 schools for the benefit of pupil's education.